2009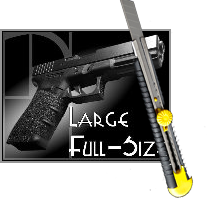 March 2009
First TALON Grip is cut out by hand using an Exacto Knife and a sheet of skateboard tape for Derik's standard duty issue Glock 21. After showing to fellow deputies at work, everyone wanted one for their Glock 21 and now, we had a template.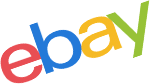 June 2009
First TALON Grip is sold via eBay and the business is born.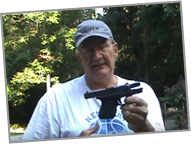 July 2009
July 24th, TALON Grips makes it first appearance on the Hickok45 Youtube Channel. He is shooting a Glock 27 at the Gong at 230 yards. Small plug at the end of the video...
https://www.youtube.com/watch?v=GmMEg4y54Dk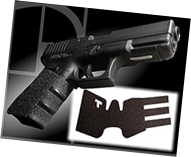 July 2009
The 9mm and .40 caliber Glocks were added. They were named Glock Large (20/21), Glock Standard (17, 22, etc.), Glock Compact (19, 23, etc.), and Glock Sub-Compact (26, 27, etc.) At this time we were offering 4 different models of TALON Grips that were cut by hand.

July 2009
TALON Grips implemented Die Cutting to create grips in bulk. We found a Die Cutting shop in the Northwest and would send out our prototypes. These were then cast into a die and cut. We were still just using skateboard tape and we would have the rolls sent to the manufacturer and he would cut then return the final products to us for sales and distribution.
2010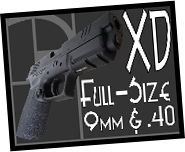 April 2010
The Glock line of grips was completed and we began to branch out into the Springfield XD line. Now we were up to 7 Glock Grips and 3 Springfield XD grips (10 total).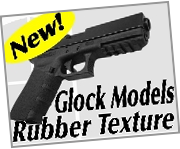 May 2010
TALON Grips Granulate material is finalized. No more "skateboard tape" we now have a material meant to stick to polymer and come off clean. It is also much thinner and more pliable than "skateboard tape."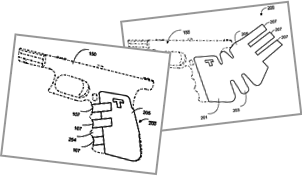 June 2010
TALON Grips Patent Application is sent in for "Wraparound Gun Grip"
2011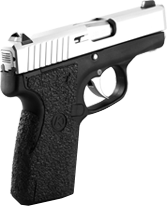 May 2011
TALON Grips for Kahr and Kel-Tec firearms are introduced for the first time.

June 2011
TALON Grips Rubber material is introduced. It is less than .5 mm thick and very pliable. Great grip and more versatile than the granulate version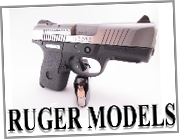 August 2011
TALON Grips for Ruger models is introduced with the LCP and LC9.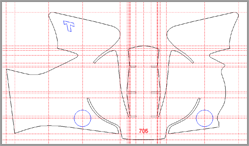 November 2011
TALON Grips moves away from Die Cutting into Laser Cutting to create more intricate designs and move production in house.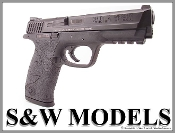 December 2011
TALON Grips uses improved design capabilities to design front wrap grips that will fit multiple backstrap sizes for XD(M) and Smith and Wesson M&P.
2012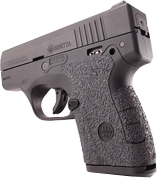 February 2012
TALON Grips for the Beretta Nano are released. This model is immediately successful and proves to be a popular seller.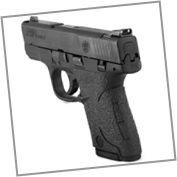 April 2012
TALON Grips for M&P Shield made available. This would prove to be a top seller for years to come.

May 2012
Patent was granted and assigned as US8181378 B2

July 2012
TALON Grips, Inc. is formed as a Colorado Corporation and Mike Morris takes over as President of TALON Grips. At this time we had 30 different grip designs from Glock, Springfield, Kahr, Kel-Tec, Beretta, Smith & Wesson, and Ruger.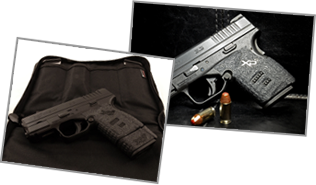 August 2012
TALON Grips for Springfield XD-S now available. This would prove to be a top seller for the Springfield line of TALON Grips.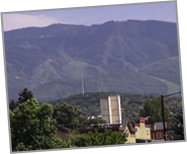 December 2012
TALON Grips relocates to current office location.
2013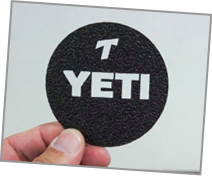 January 2013
TALON Grips started selling retail apparel including Hats, Tees and Koozies.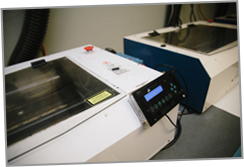 February 2013
TALON adds 5th laser to production line.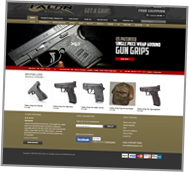 September 2013
TALON Grips launches new website for improved shopping experience and quicker order processing.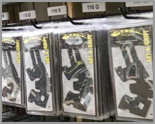 October 2013
TALON Grips launches dealer network with a handful of dealers across the US.

November 2013
TALON Grips releases its 70th grip model. Lines now offered include Glock, Springfield, Kahr, Kel-Tec, Beretta, Smith & Wesson, Ruger, AR grips, FNH, Walther, CZ, Taurus, H&K, Steyr and Sig Sauer.
2014

January 2014
TALON Grips exhibits at SHOT Show as part of the Line of Fire booth.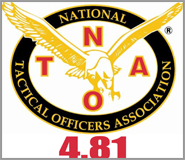 March 2014
TALON Grips receives 4.81/5 on review conducted by members of the National Tactical Officers' Association (NTOA).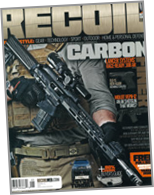 May 2014
Recoil magazine cover shot features a model with TALON Grips on an XD(M).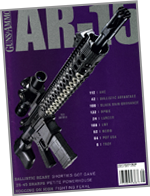 November 2014
Guns & Ammo AR-15 magazine features a 3 page editorial on TALON Grips titled "Grab Hold! TALON GUN GRIPS HELPS YOU HOLD ON."
2015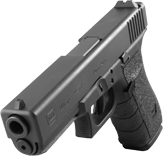 January 2015
TALON Grips announces a redesign of the entire Glock line of grips. The redesign features improved coverage all around and a highly requested logo cutout for the Glock emblem.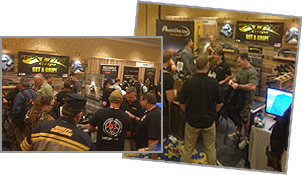 January 2015
TALON Grips is a first time exhibitor at SHOT Show.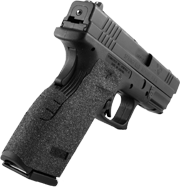 July 2015
TALON Grips launches redesign of Springfield XD grips.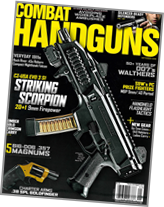 August 2015
Combat Handguns magazine features a CZ Scorpion Evo3 with TALON Grips on the cover.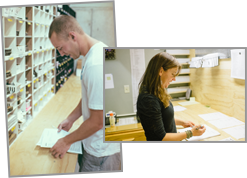 November 2015
TALON Grips makes grips for over 200 different platforms including tasers, cell phones, and 22 different firearm manufacturers.
2016

January 2016
TALON Grips participated in SHOT Show Industry Day at the Range where attendees were able to test our grips on a live fire range.
February 2016
TALON Grips goes international shipping grips to more than 220 countries worldwide.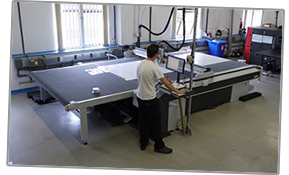 May 2016
TALON Grips new production equipment goes live resulting in quicker production times and zero off-gassing.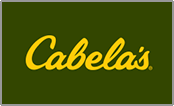 July 2016
TALON Grips are launched at 70+ Cabela's stores nationwide.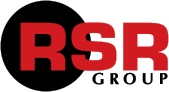 July 2016
TALON Grips signs on RSR our first major firearms distributor.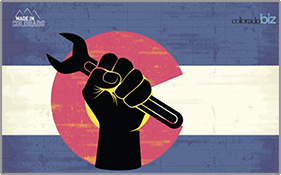 August 2016
TALON Grips was named as one of the Top 3 Made in Colorado businesses by Colorado Biz.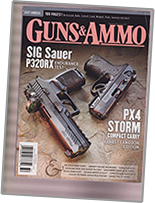 December 2016
TALON Grips are featured on cover photo of Guns & Ammo.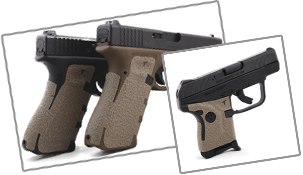 December 2016
TALON Grips releases Rubber-Moss grips.
2017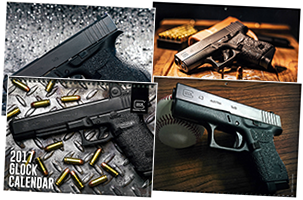 February 2017
TALON Grips featured in four images in Annual Glock Calendar.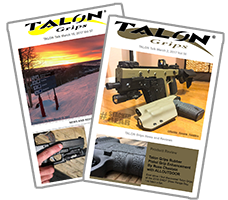 March 2017
TALON Grips launches new version of TALON TALK eNewsletter.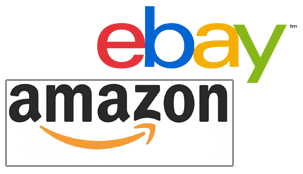 March 2017
TALON Grips opened Amazon and eBay Stores to reach new demographic of customers.